This year's Huawei's annual flagship event for the global ICT industry takes place from September 23 to October 31. So today is a good time to draw a summary. For me, it is the fourth event in a row that I am participating in. Accordingly, I was curious about the latest innovations, especially with a view to global developments in our post-COVID-19 era.
In the past few years, the Chinese technology giant had repeatedly presented innovative solutions that were always focused on creating maximum value for all stakeholders. I still remember the keynote speech given by Guo Ping, Huawei's Rotating Chairman in the crisis year 2020. Back then, Ping made it clear how important the digital economy is for China's economic growth. Statistics from the same year study by Oxford Economics and Huawei showed that every dollar spent on digital infrastructure resulted in US$ 3 GDP growth.
To continue this claim, innovation and investment are two essential basic requirements. Against this background, I also noticed the company's positive attitude at this year's Huawei Connect.
In 2021, for example, Sensing Optix, AirEngine WiFi 6, Cloud Native 2.0, and H-OTN are among the hot topics in the area of products and services. Looking at different industries, the focus is on seven sectors, including Intelligent Finance, Intelligent Energy, Internet Service Industry, Smart City, Smart Transportation, Smart Manufacturing, and Intelligent Education. Huawei's long-term digital inclusion initiative TECH4ALL focuses on the core issues of health, education, development, and the environment.
With these extensive activities, Huawei underlines the holistic view of the company and its mission to bring digital to every person, home and organization for a fully connected, intelligent world.
Innovating nonstop for faster digitalization
Huawei Rotating Chairman Eric Xu opened the event with his keynote speech titled "Innovating Nonstop for Faster Digitalization". He presented the latest developments on the HUAWEI CLOUD, Huawei's full-stack, all-scenario AI portfolio, including the MindSpore framework, and, last but not least, Huawei's network innovations.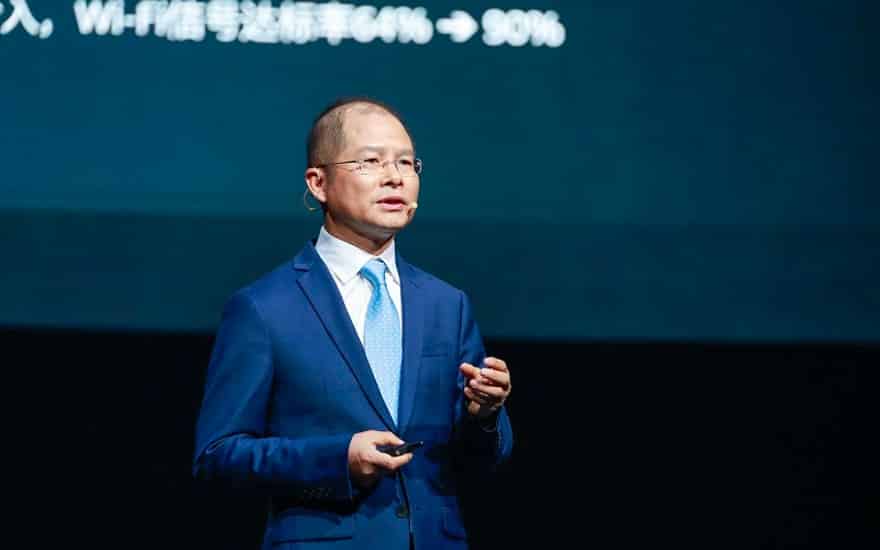 Xu said, "Digital development relies on digital technology. For digital technology to stay relevant, we must continue to innovate and create value. Cloud, AI, and networks are three critical digital technologies."
With the progress that Huawei has made in these three areas so far, the company is once again underlining its claim as an innovation leader. I will come back to a few aspects later in this article.
First, let me briefly touch on Huawei's commitment to supporting low-carbon development. As part of the global effort to reduce CO2 emissions and achieve carbon neutrality, the company is focusing on three key initiatives:
Investing and innovating in energy-saving technologies to deliver more energy-efficient ICT products for a low-carbon ICT industry
Investing in innovations where power electronics and digital technologies converge to promote clean energy and the digitalization of traditional energy
Providing digital technology to help all sectors go digital and low-carbon
HUAWEI CLOUD: Everything as a Service
As announced above, I take up the subject of the HUAWEI CLOUD again. Zhang Ping'an, CEO of HUAWEI CLOUD and President of Huawei Consumer Cloud Service elaborated on HUAWEI CLOUD's strategic initiatives and launched new services and products at the event.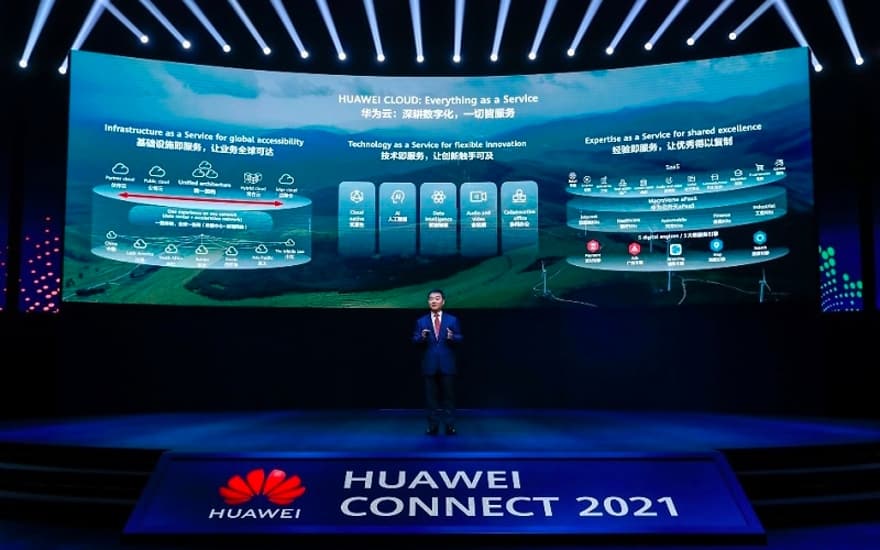 "The key to successful digital transformation is to think cloud native and act cloud native," said Zhang. "HUAWEI CLOUD joins our customers and partners to dive into digital and explore the potential of Everything as a Service – Infrastructure as a Service for global accessibility, Technology as a Service for flexible innovation, and Expertise as a Service for shared excellence."
To underpin this with concrete figures: Since launching the service four years ago, HUAWEI CLOUD has attracted 2.3 million developers, 14,000 consulting partners, 6,000 technical partners, and released 4,500 Marketplace products. Not least because of these impressive KPIs, the platform has become important for Internet companies, enterprises, and governments to go digital with their organizations.
Seven innovations in digital infrastructure
As one of the world's leading creators of digital infrastructure, Huawei is dedicated to building a fully connected, intelligent world.
Huawei Executive Director and President of ICT Products & Solutions David Wang delivered a keynote speech titled "Leading Innovation in Digital Infrastructure".
In his speech, he noted, "Infrastructure has been vital to every stage of human development. The intelligent world is fast approaching and digital infrastructure is the key to building this intelligent world. The world now faces unprecedented challenges and so Huawei will remain customer-centric and committed to innovation. We are dedicated to breakthroughs to serve major application scenarios such as digital offices, smart manufacturing, wide area network (WAN), and data centers, and accelerate the development of the global digital infrastructure."
Wang devoted the main part of his keynote speech to the presentation of seven specific innovations that Huawei has launched or is about to launch onto the market.
For the sake of completeness, let me list these innovations below:
Digital meeting rooms: Powered by intelligent "Office Twins" and bridging the world with ubiquitous gigabit and seamless collaboration
Huawei OptiXsense: Accelerating pipeline inspection
The industry's first deterministic IP network solution: Making lights-out digital factories a reality
H-OTN: Leading a revolution in secure production networks
An industry-leading IP network solution: Enabling cross-region computing resource scheduling
OceanStor Pacific: Ushering in an era of High Performance Data Analytics (HPDA)
Huawei CC Solution: Building the industry's first public diversified computing service platform
Conclusion
Creating added value for customers and partners — I have also experienced this maxim at this year's Huawei Connect 2021. The keynote speeches held as well as the latest products and services show how demands and reality are coordinated. Based on real scenarios and industry cases, business challenges can be better addressed and stakeholders can work together more effectively.
With the results at hand, Huawei is able to foster an open industry ecosystem, drive shared success and growth. The future of value creation is digital.
For more information on Huawei Connect 2021, including graphics, videos, and keynote playbacks, please click here.
P.S. Together with talented teams, I build digital businesses worldwide. If you would like to exchange ideas about digital growth, feel free to contact me.
Cover image: Huawei Connect 2021