Mike Flache is an entrepreneur, business angel and philanthropist. Together with talented teams, he builds digital businesses worldwide. The analysts of Onalytica voted him as one of the top-10 global thought leaders in the field of digital transformation.
With over two decades of hands-on business experience, Mike is involved in various industries and markets. He spends much of his time helping build high-tech startups in Silicon Valley, Europe and Asia. As a recognized thought leader, Mike collaborates with Fortune 500 companies, innovators and technology vendors. He is also the creator of the Digital Growth Program. The analysts of Onalytica voted him as one of the top-10 global thought leaders in the field of digital transformation. Mike is a member of the Global Business Leaders Institute, the Human Capital Network and various advisory boards worldwide.
Mike supports the founders and their teams from over 16 high-tech startups across the globe. The focus is on business models in the fields of artificial intelligence (AI), machine learning, SaaS, Healthcare, and financial technology, such as Fundment, Codetrails, Ctrlflow, Hiprocall, Core Competence to name a few. Mike is also a partner of venture capital and private equity companies, such as V/G Ventures Switzerland. As a mentor and jury member of the Get in the Ring Foundation, he helps innovators unlock digital growth opportunities.
Mike advises CEOs and boards of directors of some of the world's most renowned organizations. He has worked with leaders of companies such as Coca-Cola, Mercedes-Benz, Huawei Technologies, and the Silicon Valley Innovation Center. Mike also collaborates with business schools and universities as guest lecturer on growth, digital transformation and entrepreneurship, such as the Harbin Institute of Technology, the University of Hohenheim and the Singapore University of Social Sciences. With the Digital Growth Program, Mike started passing on business and life lessons to aspiring entrepreneurs and the next generation of business leaders.
Mike shares insights into digital growth through keynotes, panel discussions and events. He inspires the audience with real-world examples that are driven by technology, digital transformation and entrepreneurship. Mike's activities include appearances at conferences, summits, corporate and virtual events around the globe, such as Mobile World Congress, Digital Transformation Summit, Trust in Tech Symposium, Digital Asia, Huawei Connect and Eco-Connect Europe, Digital Enterprise Show, Responsible Business Summit Europe, ESG Investment Summit, Fifteen Seconds Festival, 5G Bring New Value, the Ministry of Economics, and Daimler think! Tank.
Mike has worked with leaders of Fortune 500 companies, innovators and startups
Mike is not fulfilled by business alone. Since he survived the Indian Ocean tsunami in 2004, he has expanded his entrepreneurial activities to include social and sustainability projects. Over the years, he has supported various good causes and nonprofit organizations. He is also a collaboration partner of the Ethical Corporation. One of his recent projects is Safe Water Gardens, a Singapore-based social enterprise that tackles the global sanitation crisis. The organization's vision is to provide a safe and affordable sanitation system for every home in rural areas worldwide.
In his life Mike had to face and solve many drastic challenges – be it the abrupt end of his professional sports career as a teenager, the survival of the tsunami in the Indian Ocean in 2004 or the separation from loved ones of his family. Whether in business or in life, each of these profound life experiences was an invaluable lesson and has made him grow stronger. Following the motto "Rising Up Again – Successfully Master Life's Greatest Challenges and Find Your Way Back to Happiness", Mike shares his approach, insights and experiences with other people.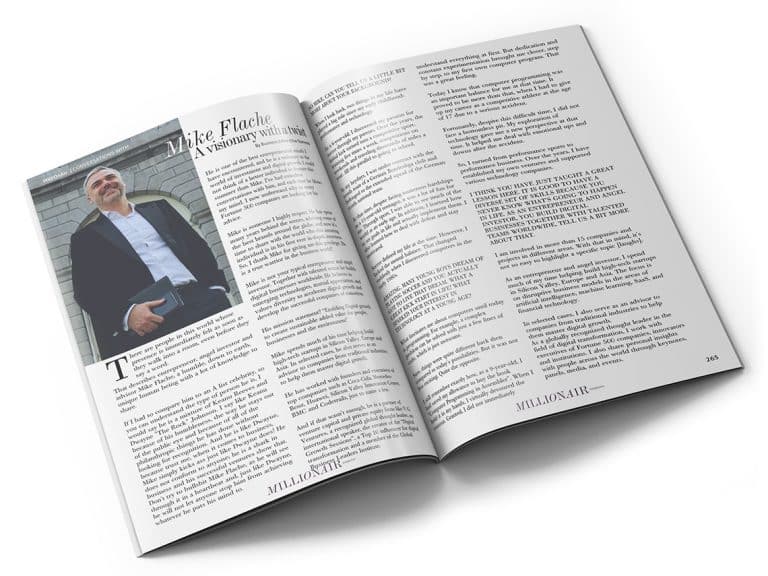 Mike on technology, business and entrepreneurship