I'm Mike Flache — an entrepreneur, business angel, and philanthropist. Onalytica's analysts named me one of the top-10 global thought leaders in digital transformation. Together with talented teams, I drive digital growth in business and philanthropy. Let me introduce some of my activities.
Under the roof of Flache International, I spend my time helping build high-tech startups in Silicon Valley, Europe, and Asia. As a recognized thought leader, I collaborate with Fortune 500 companies, innovators, and technology vendors. I'm also the creator of the Digital Growth Program. Onalytica's analysts named me one of the top-10 global thought leaders in the field of digital transformation. As a member of the Global Business Leaders Institute, the Human Capital Network, the Asia CEO Community, and the Della Leaders Club, I bring my experience to companies and organizations.
In the startup world, I support the founders and teams of over 15 high-tech innovators across the globe. The main focus is on business models in the fields of artificial intelligence, machine learning, cloud computing, blockchain, and AR/VR, such as Fundment, Baqend, Codetrails, Ctrlflow, Hiprocall, and Tecflower, to name a few. With Fundment, we're currently working hard to build one of the next billion-dollar businesses in financial technology. I'm also a partner of venture capital and private equity companies, such as V/G Ventures Switzerland, and a mentor and jury member of the Get in the Ring Foundation.
To enable digital growth in order to create sustainable added value for people, businesses, and the environment.
I share my experience with some of the world's most renowned organizations. Over the years, I've worked with executives of companies such as the Silicon Valley Innovation Center, Google, Huawei Technologies, and Mercedes-Benz. I also serve on various advisory boards around the world. With the AS-Schneider Group, Mankenberg, and IHSE, I've guided family businesses from traditional industries on their way into the digital world. Together we've opened up international markets as well as new sales channels and sources of revenue. As a mentor for aspiring entrepreneurs, I pass on my lessons learned to the next generation of business leaders.
Every year I'm available for a selected number of speaking engagements around the world. I provide tangible experiences that audiences can incorporate into their professional aspirations. My activities include appearances at conferences, summits, and corporate events, such as Mobile World Congress, Digital Transformation Summit, Digital Asia, Digital Enterprise Show, and the Ministry of Economics, to name a few. I also give guest lectures on growth, digital transformation, tech for good, and leadership at business schools and universities, such as the Harbin Institute of Technology and the Singapore University of Social Sciences.
Mike has worked with leaders of Fortune 500 companies, innovators, and technology vendors
After surviving the Indian Ocean tsunami in 2004, I began to reflect on my personal and professional life. With Flache.org, I've created the foundation to expand my entrepreneurial activities with social and sustainable projects. Since then, I've supported various causes and organizations. Today I'm a collaboration partner of the Ethical Corporation and share my key takeaways on how companies can create a positive impact by leveraging their digital growth opportunities. I'm also the co-founder of Safe Water Gardens. The Singapore-based social enterprise tackles the global sanitation crisis.
Start with a weekly key takeaway delivered to your inbox. It's for leaders who want to drive digital growth for their business or nonprofit.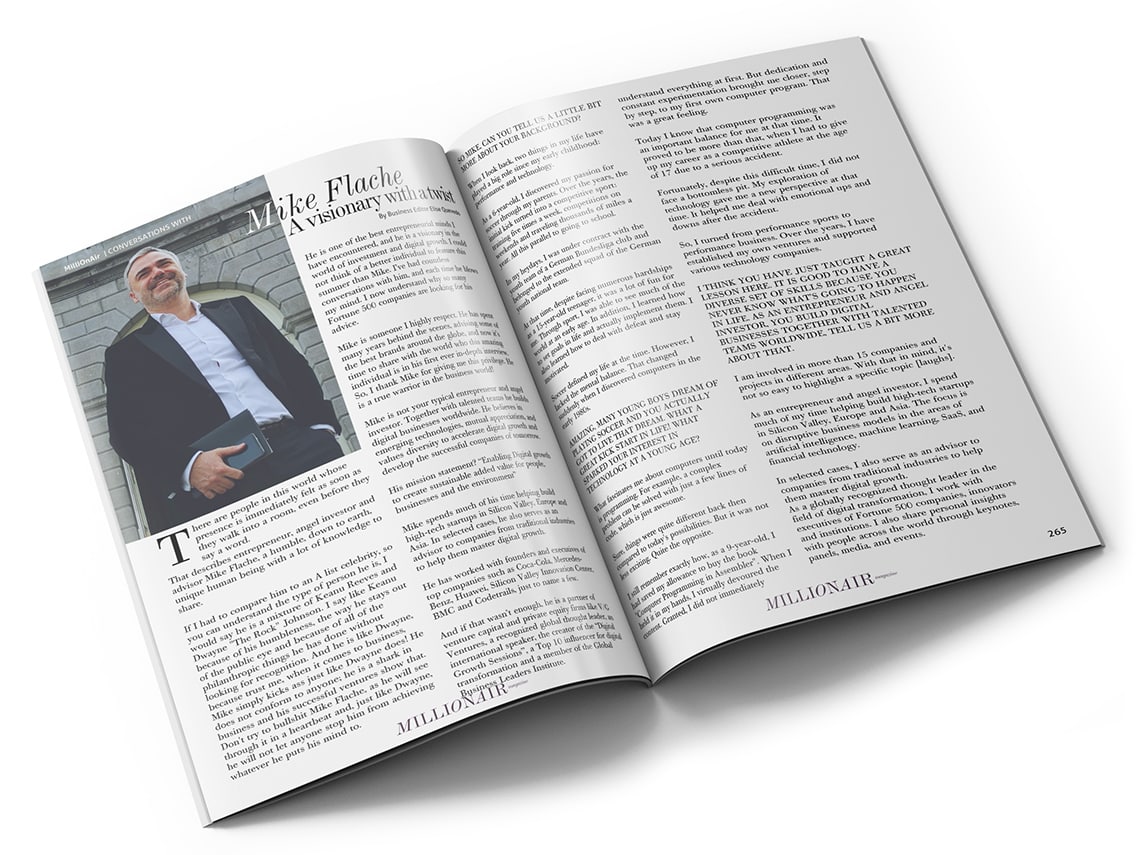 Mike on technology, digital business, and philanthropy