In mid-September, the time had finally come: The Huawei company presented the latest highlights for our digital world at the HUAWEI CONNECT 2022. But that's not all. The 7th flagship event for the global ICT industry brought another novelty: it was the first HUAWEI CONNECT outside of China; more specifically, the event took place from September 19th to 21st, 2022 in Bangkok, Thailand.
The theme of this year's event was "Unleash Digital" and brought together over 10,000 ICT industry leaders, experts, and partners from around the world. The aim was to find out together how to unleash digital productivity more effectively, boost the digital economy and build stronger digital ecosystems.
As a returning guest at HUAWEI CONNECT, I was of course excited to see the innovations that Huawei will be presenting this year.
Before I go into the individual aspects in more detail, first this much: At the event, Huawei presented the main steps that the company is taking to drive digital development in a variety of industries. Among other things, published more than 15 innovative cloud services for the global market.
Let's take a look at the main highlights of the HUAWEI CONNECT 2022 together.
Three initiatives helping all industries go digital
Kicking off the event, Ken Hu, Rotating Chairman of Huawei, gave a keynote speech presenting three ways the ICT ecosystem can help break down common barriers in digital transformation:
Improving digital infrastructure, including more robust connectivity and stronger and more diverse computing resources.
Enabling organizations to go beyond simple cloud adoption and get the most out of the cloud by focusing on advanced technology services that drive leapfrog development.
Building local digital ecosystems, including partner development, strengthening the digital talent pool and providing more support to SMEs.
GDP growth has been unstable over the past two years. However, the digital economy has been growing steadily worldwide — more than 15% in 2021. This has prompted many companies to transform their operations and service offerings with next-generation digital technology.
"Going digital is clearly the right choice," said Hu. "The demand is there, and so are the technologies. The world is unleashing digital productivity, and it's happening right now."
Huawei cloud innovations go global
Huawei Cloud aims to build a global network that enables access to services on Huawei Cloud within 50 milliseconds from anywhere in the world. As a result, companies no longer have to build their data centers.
Also, Huawei Cloud will launch new regions in Indonesia and Ireland. By the end of this year, 29 regions and 75 Availability Zones (AZs) will be deployed, covering more than 170 countries and regions.
Zhang Ping'an, CEO of Huawei Cloud, also presented the "Go Cloud, Go Global" plan in his keynote speech. With a focus on Everything as a Service, Huawei Cloud will share the local experiences gained through the services in more than 170 countries and regions. This also includes insights into companies and industries in the most important regions to bring their technologies and solutions into a global ecosystem.
Huawei Cloud continues to adhere to the proven approach of "by local, for local" to build a global digital ecosystem. In the next three years, Huawei Cloud will support at least 10,000 promising startups around the world, including cost optimization, technical support, entrepreneur training, and other business resources.
More than 120 companies in the Asia-Pacific region have already joined the Huawei Cloud Startup Program.
The right technology for the right scenario
Huawei has launched a series of innovative infrastructure solutions to advance digitalization in various industries. At its core, it's about providing the right technology for the right scenario.
At HUAWEI CONNECT, industry representatives held wide-ranging discussions on "Innovative Infrastructure to Unleash Digital" to explore the future directions and opportunities for industrial digitalization.
The challenges of various industries that are driving their digitization were analyzed together. Huawei presented solutions that use technical strengths to overcome these challenges.
Ryan Ding, President of Huawei Enterprise BG, said in his keynote speech "Empowering Industry, Creating Value" that "Deeper digital transformation will help companies better adapt to an ever-changing world. Huawei is working closely with our partners to find the right technology for the right scenario, support customers in furthering their digital transformation, and unleash the power of digital."
According to Ding, Huawei uses its connectivity, computing, and cloud technologies to drive continuous industry innovation and multi-tech synergy together with partners, developing scenario-based solutions for diverse customer needs. This creates added value and makes it easier for customers to go the "last mile" of their digital transformation.
The 5.5G era — on the way to the intelligent world
David Wang, Huawei's Executive Director of the Board and Chairman of the ICT Infrastructure Managing Board delivered a keynote titled "Embracing the 5.5G Era: Striding Towards the Intelligent World."
In his speech, Wang makes it clear that the rapid development of technologies helps us to move even faster towards an intelligent world. Digital technology will continue to transform production, and artificial intelligence (AI) will become the focal point in almost every production process.
Furthermore, digital technology will also become a key enabler for sustainable development and will help the world to become more rapidly decarbonized.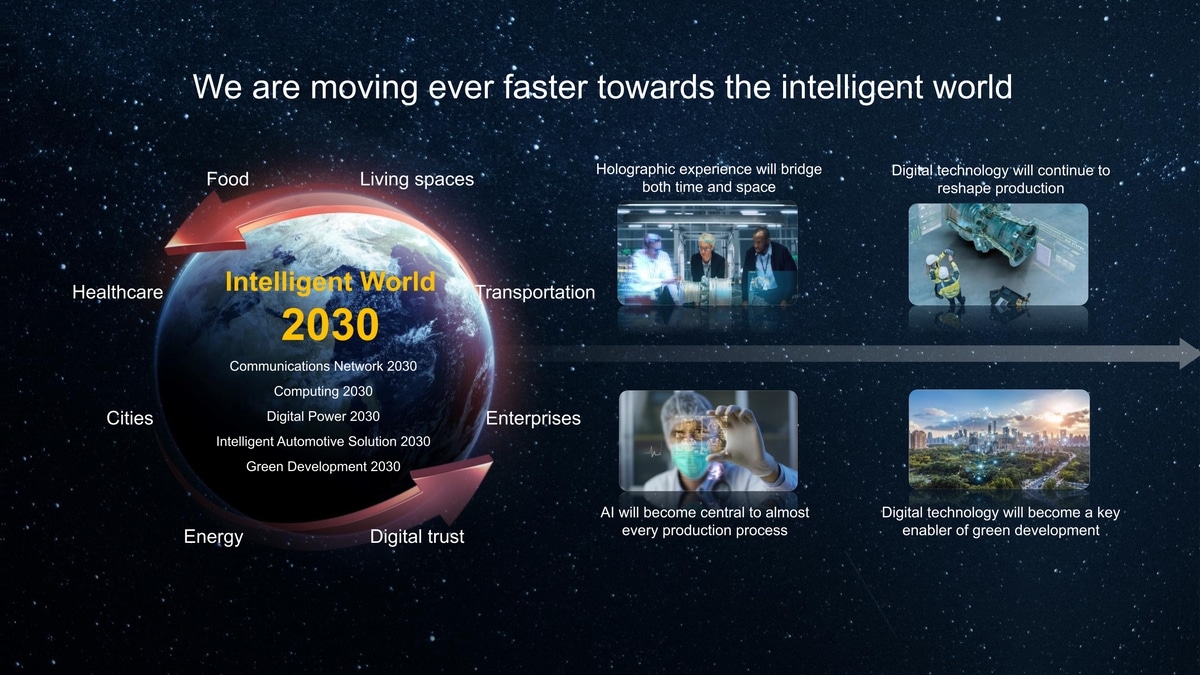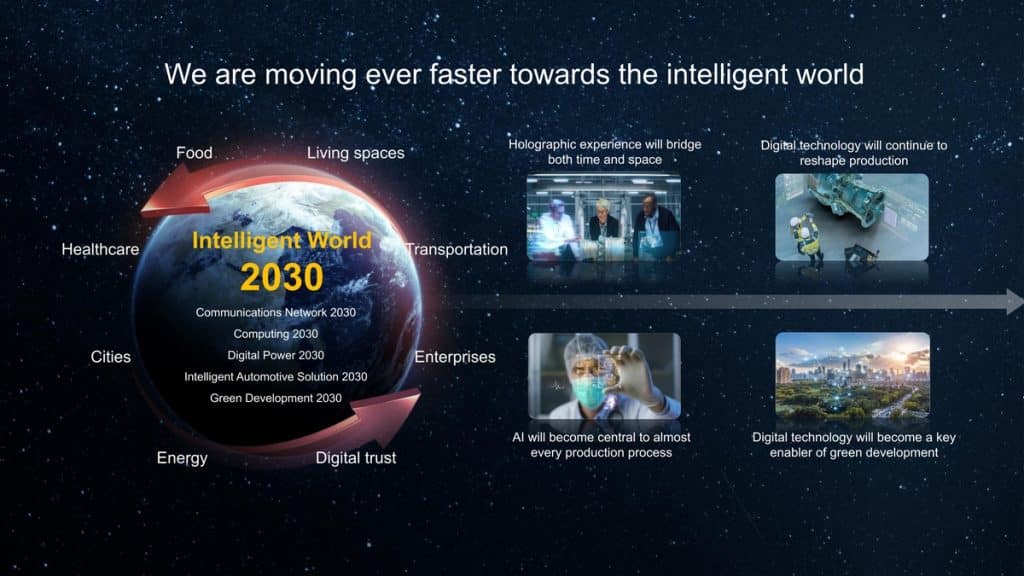 To take a significant step closer to this goal, Huawei has defined standards for both 5G and F5G to drive service development in the 5G era. In addition, the 5.5G era will be an important milestone on the way to the goal.
From a technical point of view, we will need
ubiquitous 10 Gbit/s experience
intelligent and high-quality compute scheduling
highly autonomous L4 networks
Cloud Native 2.0 services for enterprises,
a 10-fold increase of computing effectiveness, storage, and infrastructure energy efficiency.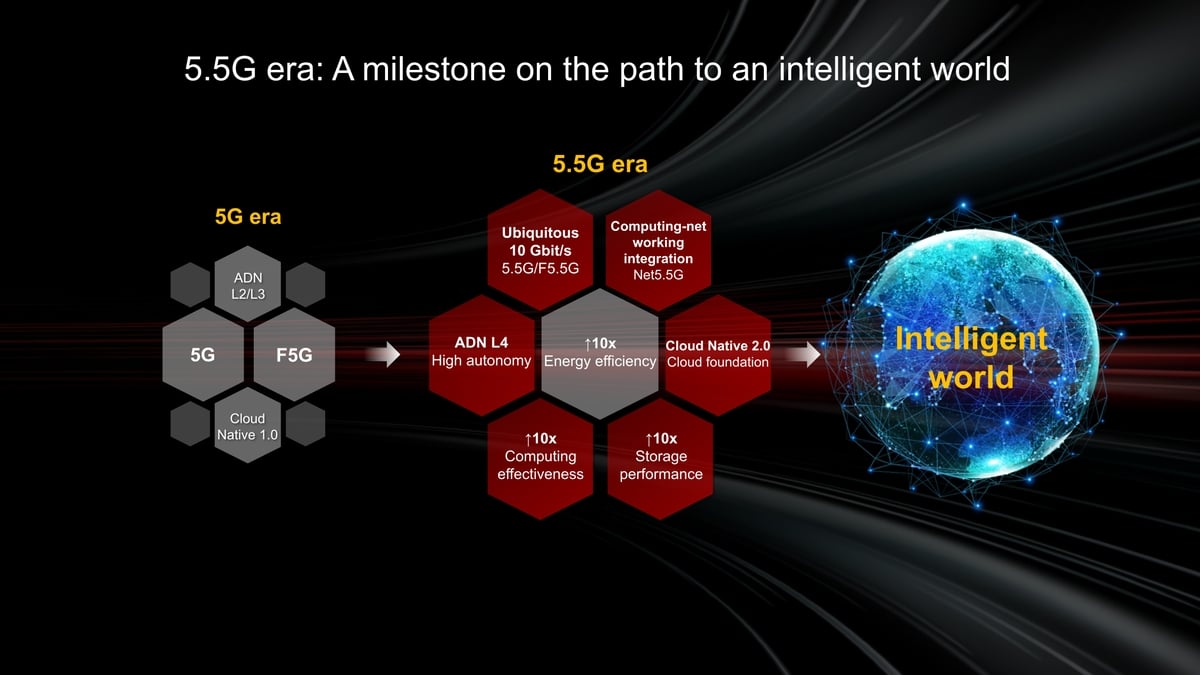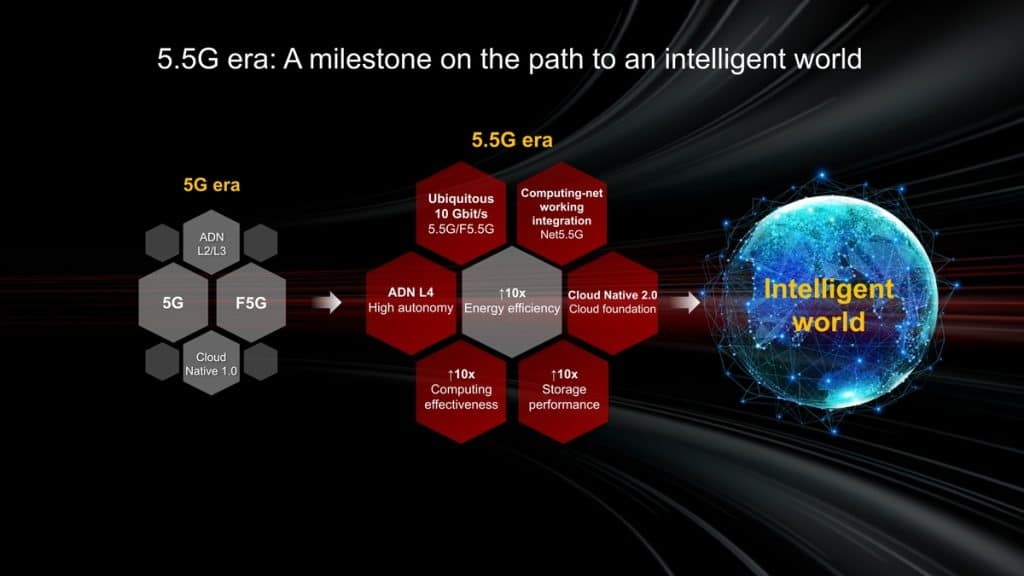 The 5.5G era is also having an impact on green and sustainable developments. To tackle climate change effectively, innovative ICT solutions are an essential prerequisite. Wang breaks this down into three areas:
Offset growing energy consumption by making digital infrastructure more energy efficient. To this end, Huawei has proposed the Unified Network Carbon Intensity Index to evaluate the energy-saving measures of entire networks. Huawei has further released a three-layer green solution covering sites, networks, and operations to improve network energy efficiency 10 times by 2025.
Integrate innovative digital and power electronic technologies to increase the share of renewable energies in our energy mix.
Use digital technology to help various industries to become low-carbon, especially in high-carbon industries, such as electricity, industry, transport and buildings. Huawei believes that by 2030, digital infrastructure will become 100 times more energy efficient, more than 50% of electricity will come from renewable energy, and 50% of enterprises will take their digitalization to a new level.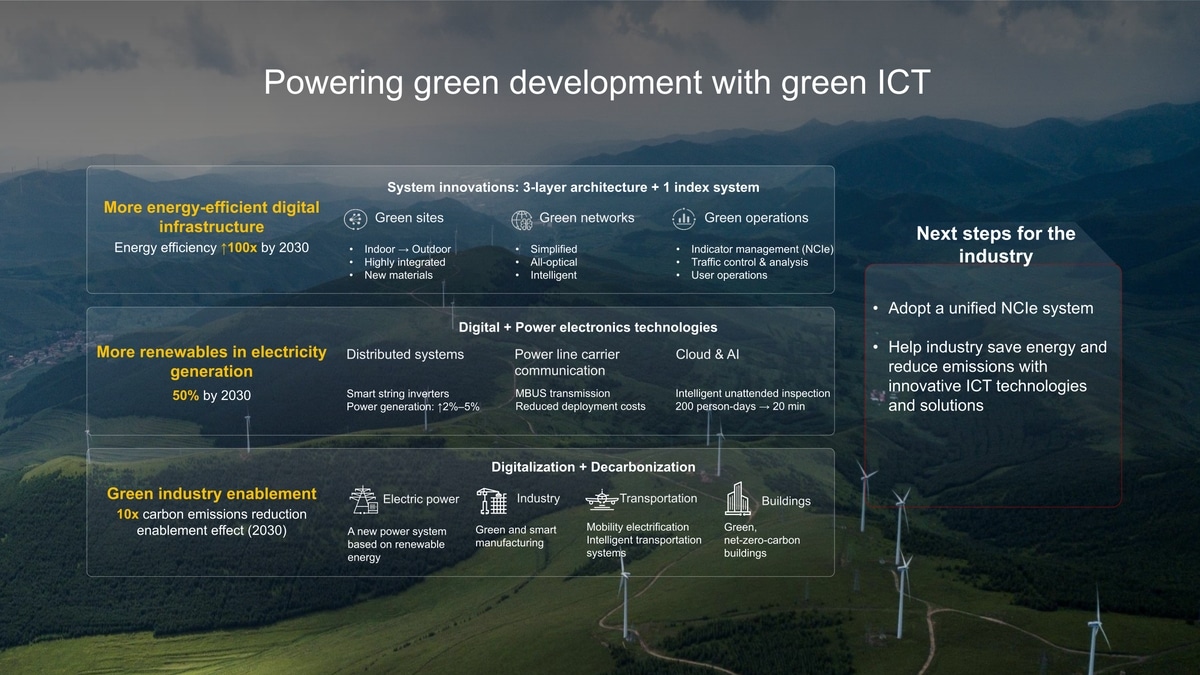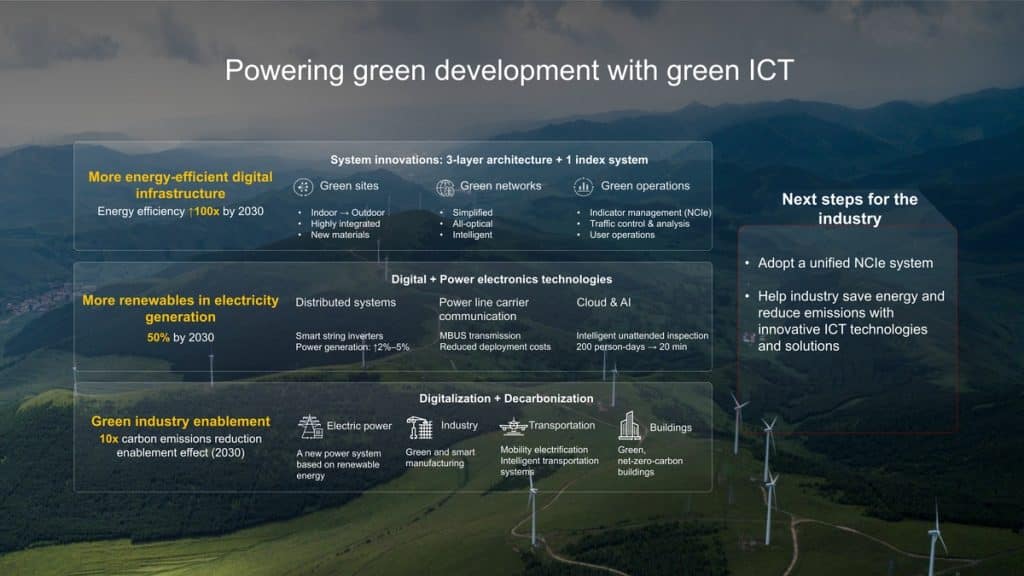 Conclusion
The three-day HUAWEI CONNECT in Bangkok was once again exciting, insightful, and informative. This year, Huawei not only presented pure innovation that will change our future but also pointed out concrete paths and milestones to get there.
In view of the global activities of the Chinese technology giant, the partnership approach of the company is still remarkable to me. At the event, Huawei launched the Huawei Empower program, which aims to help develop a thriving digital ecosystem for global partners.
Through this program, Huawei will conduct joint innovation with partners via OpenLabs, empower partners with a new framework, plan, and integrated platform, and build a talent pool through the Huawei ICT Academy and Huawei Authorized Learning Partner (HALP) programs.
Huawei also announced it would invest US$300 million in this program to support global partners over the next three years.
All in all a successful event. The next 12 months until HUAWEI CONNECT 2023 are promising.
P.S. Do you want to read my posts regularly? Subscribe to my weekly newsletter.
Cover image: HAUWEI CONNECT 2022