Last week I had the opportunity to attend the Huawei Connect in Shanghai again. This year, as at so many other global events, it is purely virtual. And in the sixth year of this flagship event for the global ICT industry, this is definitely a new, exciting experience.
Huawei made all keynotes, sessions and other information about the event available live or as a recording online. Each participant was able to follow all subject areas directly and easily from their home screen.
From my personal point of view, this fact has brought about a completely new quality aspect, because instead of rushing from one keynote to another, I was able to listen to the lectures in 2020 relaxed and with full attention. That was really beneficial.
In addition to the numerous, individual specialist lectures and sessions on the main topics of connectivity, 5G, computing, cloud, AI and applications, I was particularly impressed by the keynote from Guo Ping, Rotating Chairman of Huawei.
With the title "Creating New Value with Synergy Across Five Tech Domains", Guo Ping raised awareness of the global situation and the associated challenges. On the other hand, he presented Huawei's major strategy and the associated solutions in order to decisively counteract these challenges.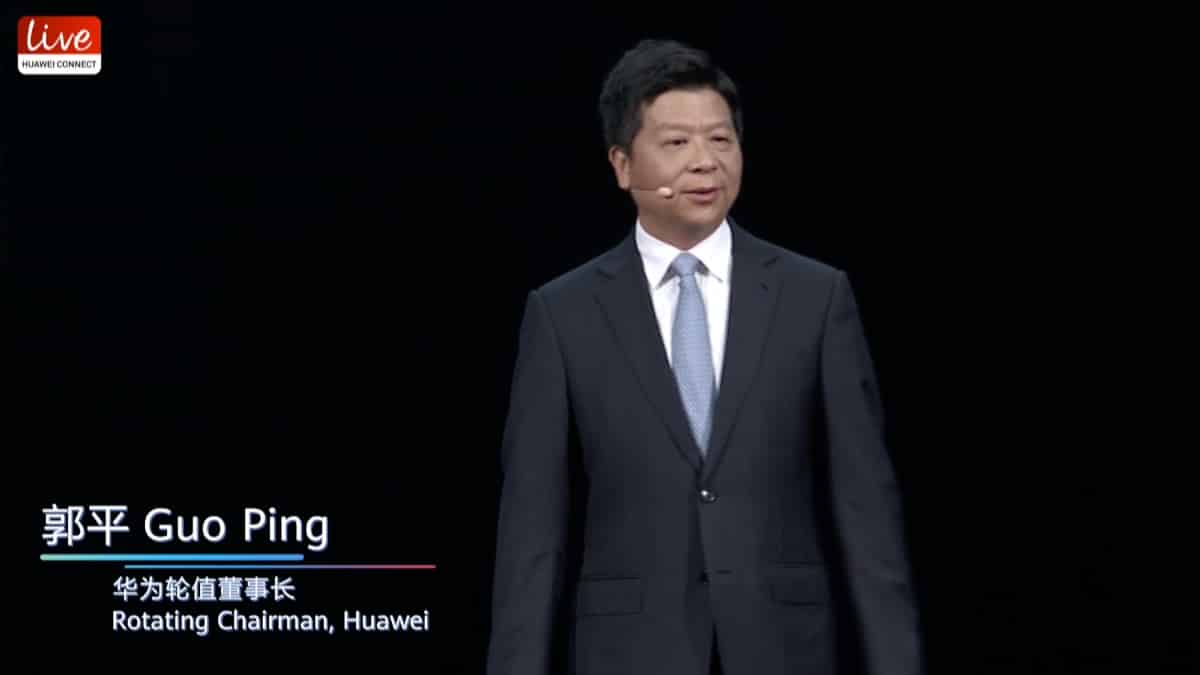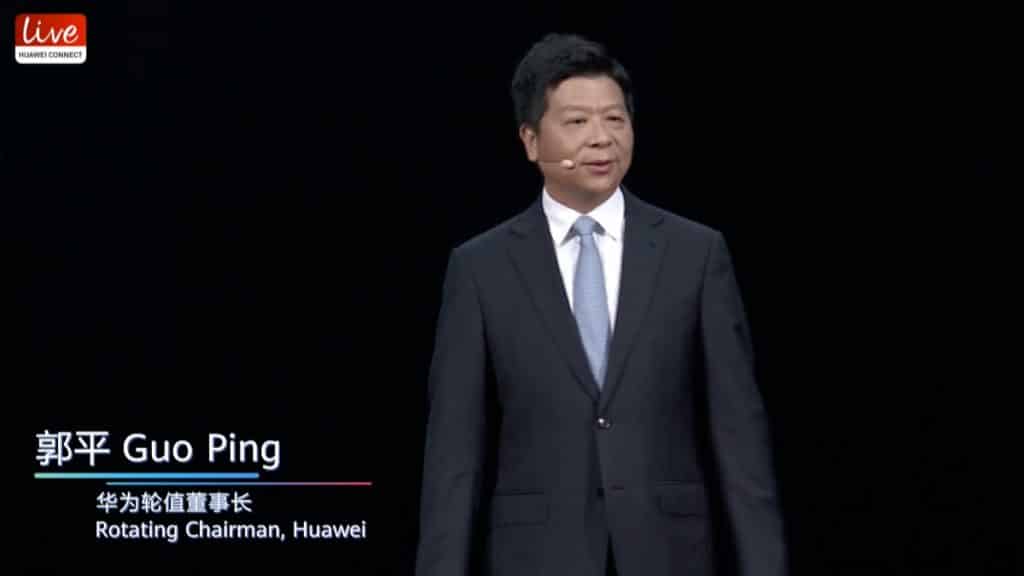 He shared Huawei's leading practices in helping build smart enterprises, campuses, and cities, by integrating ICT technology with industry know-how and providing scenario-specific solutions to create value for governments and enterprises in regard to their major business systems.
"As more and more governments and enterprises go digital and embrace intelligence, the ICT sector will see incredible potential for growth. We look forward to opening this new chapter together with our partners." Guo Ping underlines Huawei's approach.
The digital economy is the new engine for China's economic growth. Statistics from the Oxford Economics and Huawei study show that every dollar spent on digital infrastructure resulted in $ 3 GDP growth.
Against this background, I once again ask myself why some companies and governments around the world are still reluctant to invest in technology. Personal discussions with CEOs and shareholders, especially from traditional industries, underline this fact: first full order books, then the crisis. Both of these often prevent decision-makers from breaking new ground. With a view to securing the future and adding value, however, it is finally time to find the golden mean.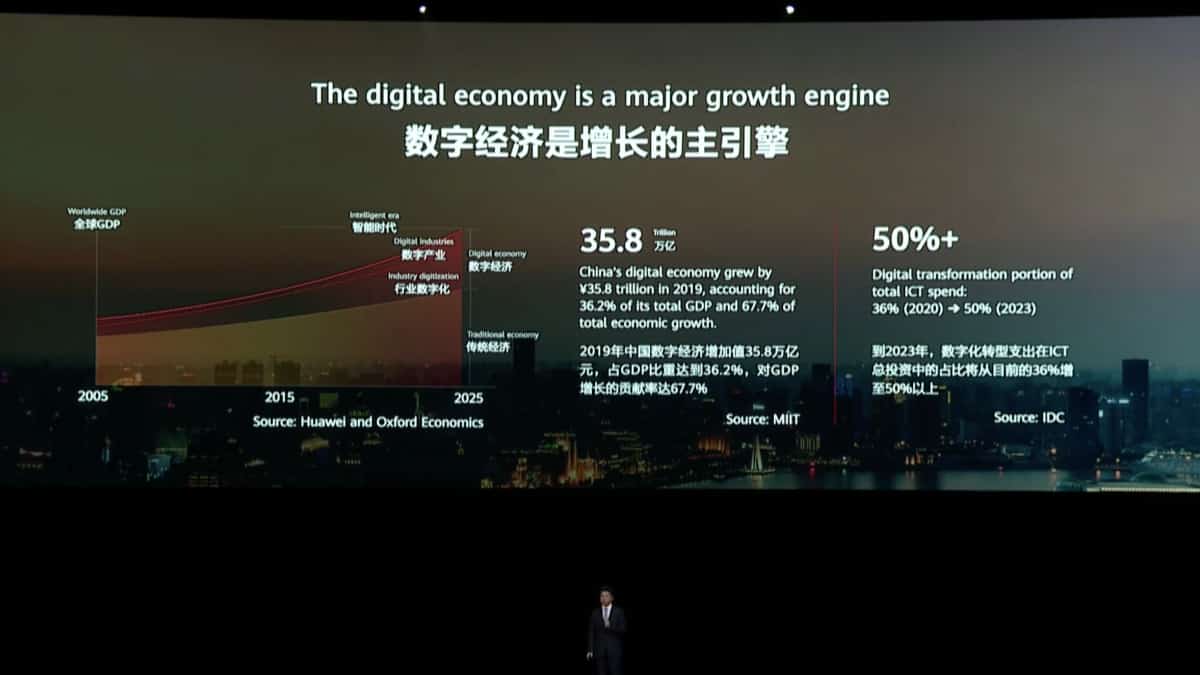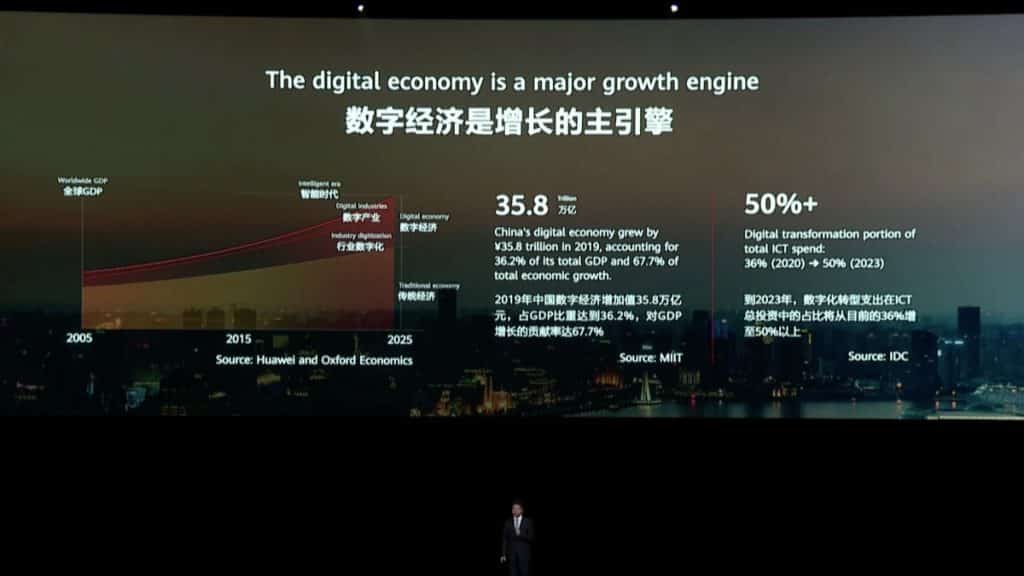 It is clear that the framework conditions and requirements in the individual countries and companies cannot be compared across the board. However, this is no longer an excuse NOT to act. Because it is also a fact that the future of value creation is digital.
In my opinion, Huawei recognized this early on and consistently implemented it through the holistic approach of combining five technology domains with the goal of maximum added value.
Guo Ping underlined this approach during his keynote with notable examples, including so how companies e.g. were able to significantly reduce their maintenance, repair and management costs.
Huawei believes that synergy across these five tech domains will not only bring Huawei opportunities. More importantly, they will present opportunities for the entire sector. The Chinese tech company hopes to grow the whole pie with its partners, enabling them to reap the most benefits from the new value chain.
So it was not a surprise for me personally, much more the logical consequence that Huawei also announced its slogan for ecosystem partnership development with its outstanding partners from around the world: Innovate, Grow, and Win Together.
To conclude this article with a simple picture:
Huawei sees itself as the electricity provider 100 years ago. Connectivity and computing are a lot like electricity when it was first discovered. At first it was only used for lighting. Gradually, it expanded to power home appliances and industrial equipment, which brought tremendous change to all industries and officially ushered in the electric age.
I am very excited about the coming months and further developments in all areas. And I wish the company, all employees, partners, and customers all the best and much success in implementing their vision.